Bix Wheelie
is a cocky motocross champion badger, who is leader of the
Badger Bix Bike Club
, a small group of motorcycle enthusiasts. Voiced by
Hadley Kay
.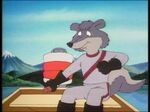 Bix disregards the safety and welfare of others, including the members of his own gang, which eventually leads to the group's dissolution. His father owns a GX-250-V12-ZXL with super turbo overdrive
Ad blocker interference detected!
Wikia is a free-to-use site that makes money from advertising. We have a modified experience for viewers using ad blockers

Wikia is not accessible if you've made further modifications. Remove the custom ad blocker rule(s) and the page will load as expected.