Cedric "Sydney" Sneer
is one of the series' major protagonists.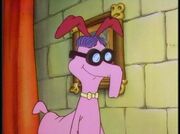 Biography
Edit
Cedric Sneer is the college-educated son of Cyril Sneer, the Raccoons' "numero uno" nemesis. He also happens to be Bert Raccoon's best friend ever! Cedric works for his father, managing Cyril's humongous hordes of money. But to be honest, he would rather be joining Bert and the rest of the gang in their Evergreen Forest adventures.
Personality
Edit
Even though he's shy and quiet, he comes to life when playing baseball and hockey. He loves to be a part of the team! And part of the team is Sophia Tutu (the Evergreen Forest's own Olympic skating hopeful), who also happens to be the love of Cedric's life!
Cedric was the star "secret" hockey player when the Raccoons played Cyril's Bears for the future of Evergreen Lake. Cedric dreams of someday being discovered by a pro hockey scout.
Appearances
Edit
The only episode Cedric didn't appear in is Last Legs.
Relationships
Edit
Cyril Sneer
Edit
Cedric is Cyril's son (Cedric calls him "Pop"), ultimately he loves his father dearly, caring for him and supporting him but often fears he goes too far with taking risks and when Cyril gets angry he usually feels afraid of him (as shown in "The Racooons and the Lost Star").
Sophia Tutu
Edit
Cedric and Sophia have been boyfriend and girlfriend since The Raccoons on Ice, she later disappeared upon finding that he should be coming home to Cyril.
Like his father he treats the pigs as employees, but unlike Cyril he doesn't treat them with indignity.
Bert Raccoon
Edit
Cedric is Bert's best friend (Bert often pals around calling him his "buddy"), wherever you find Bert out and about, you will often see Cedric joining him in his escapades. From hunting treasure to exploring Beaver Bite Swamp, Cedric is always there for his best friend, even if the chips are down.
Ad blocker interference detected!
Wikia is a free-to-use site that makes money from advertising. We have a modified experience for viewers using ad blockers

Wikia is not accessible if you've made further modifications. Remove the custom ad blocker rule(s) and the page will load as expected.