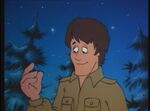 Dan lives in the Evergreen Forest and is the Chief Forest Ranger. His children are Julie and Tommy.
Relationships
Edit
Unnamed sister.
Edit
Mentioned in "Opportunity knocks".
Unknown Wife
Edit
Possibly deceased.
His daughter
His son
Schaeffer
Edit
The family sheepdog
Puppy
Appearances
Edit
Ad blocker interference detected!
Wikia is a free-to-use site that makes money from advertising. We have a modified experience for viewers using ad blockers

Wikia is not accessible if you've made further modifications. Remove the custom ad blocker rule(s) and the page will load as expected.