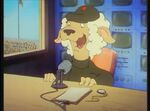 Haggis Lamborgini is a sheep who was the race commentator in "The Evergreen Grand Prix". He has a Scottish accent.
Haggis was voiced by Derek Diorio.
His first name is most likely a play on the Scottish dish called Haggis, whereas his last name is presumably based upon race car driver Sir John Young "Jackie" Stewart, OBE.
Ad blocker interference detected!
Wikia is a free-to-use site that makes money from advertising. We have a modified experience for viewers using ad blockers

Wikia is not accessible if you've made further modifications. Remove the custom ad blocker rule(s) and the page will load as expected.