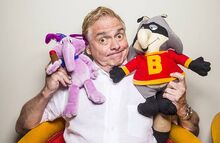 Kevin Gillis is the creator of the Raccoons franchise.
Biography
Edit
When Bert Raccoon first discovered Kevin Gillis, he was working as a forest ranger in Northern Ontario and moonlighting as a folk-rock "wannabe". Saved from a life of being devoured alive by mutant backflies, Kevin gave up the only honest job he would ever have and set out to make his mark in show biz.
What followed was years of imposing his creative stamp on hordes of poor unsuspecting audiences. Miraculously, he was able to produce and executive produce a few shows along the way, including The Raccoons (for which Cyril Sneer has never forgiven him); RoboCop: The Series; the animated feature, The Nutcracker Prince (starring the voices of Peter O'Toole, Megan Follows and Kiefer Sutherland); and Eckhart. Even more miraculously, his shows have won numerous awards and are seen by people in more than 175 countries worldwide (who should know better).
Always trying to redeem himself, Kevin also produced Atomic Betty, for Teletoon Canada, M6, Cartoon Network, and ITV.
Kevin likes to cook and garden (especially the getting dirty part). He loves trying to speak French, classical music and still finds time to write songs (once a wannabe - - always a wannabe). He especially loves his two kids and his cat "Alice" (who likes to be chased...but can never be caught). What's that sound you ask? Oh, that's his wife calling out: "Bert Raccoon, can you take him back to where you found him?! PLEASE?!!!"