Mr. Willow
runs
Willow's General Store
.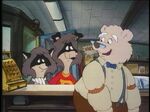 Species?
Edit
It's not officially known what kind of animal he is supposed to rememble, however he looks quite like a bear. However, he doesn't resemble any of Cyril Sneer's bears. He has white fur, so that could possibly mean he might be a polar bear.
He may be also older than Cyril. As seen in a flashback when a 10 year old Cyril is seen fishing at the secret fishing hole and a younger Mr. Willow (probably in the late teens early 20s) is seen rowing a boat with a woman (possibly his wife).
Appearances
Edit
Ad blocker interference detected!
Wikia is a free-to-use site that makes money from advertising. We have a modified experience for viewers using ad blockers

Wikia is not accessible if you've made further modifications. Remove the custom ad blocker rule(s) and the page will load as expected.