.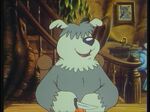 Schaeffer is a big, overgrown, loveable, shaggy sheepdog.
Biography
Edit
He has no recollection of his childhood and only remembers the day that he was found by Julie and Tommy wandering aimlessly in the Evergreen Forest, frightened, along and hungry. He has since has oodles of love, attention, devotion and affection showered on him by his family and friends, and he digs it!
Personality
Edit
Don't let his happy-go-lucky appearance fool you! When Schaeffer gets upset, he can become very aggressive and defensive. Guarding his friends is what Schaeffer is all about! He is also very protective of the Evergreen Forest and helps Ranger Dan take care of all the wonderful creatures that dwell there.
And by the way - Schaeffer is a real hot-"dog" on the ice. He's one of the founding members of the Evergreen Raccoons hockey team and one of the best goaltenders the Evergreen Forest has ever seen! Being big and overgrown sometimes has its advantages!
Appearances
Edit
Ad blocker interference detected!
Wikia is a free-to-use site that makes money from advertising. We have a modified experience for viewers using ad blockers

Wikia is not accessible if you've made further modifications. Remove the custom ad blocker rule(s) and the page will load as expected.