For the song, go to
The Sweet Smell of Success (song)
The Sweet Smell of Success! was episode 13.
Bert turns his back on his friends to become the spokesperson for Cyril Sneer's new colonge -- "Success". But is the world of super-stardom all it is cracked up to be?
The band known as The Raccoons (consisting of Bert (on guitar and vocals), Ralph (on drums), Melissa (on keytar), Cedric (on keyboard), Sophia (on keytar) and Schaeffer (on bass)) become the greatest thing in the Evergreen Forest, so Cyril tries to use them in his marketing scheme for his cologne. Instantaneously, most of them refuse to pitch Cyril's product, except for Bert.
After Cyril and the Pigs whine and dine Bert, he finally acquiesces to their requests and inks the contract. Eventually, Cyril leaves Bert high and dry, but his true friends prove to be there for him when it matters most.
Thus we see that good friends, while hard to come by, are an invaluable commodity.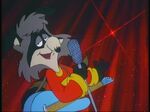 Characters
Edit
The Pigs are apparently terrible artists.
From this episode on, the instrumental to "The Sweet Smell of Success" is played, largely in scenes concerning Cyril.
Cyril mentions "Star Wars".
Michael Magee is credited as the voice of Snag, who does not appear in this episode, and Geoffrey Winter is credited as the narrator, despite this episode having no narration.
Also, this is the first of several episodes (not counting the fourth special) not to use narration.
This is the second time Bert is seen without his shirt on.
There is a goof in this episode with the pigs, when one of them says '"They're not going to do it" and it cuts to the pigs in the mansion telling Cyril, we see that pig in the middle sounding the same, yet a few minutes later we see that same pig talking but instead we hear Lloyd's voice coming from that pig.
In the shot where we can see Bert, Ralph, Melissa, Sophia, Cerdic, and Schaeffer's audience, a "wicked witch" is seen seated nest to an elephant.
External links
Edit